Free Network Assessment – a $1,000 value!
LIMITED TIME OFFER*
9 out of 10 computer networks have potentially serious IT problems sitting undetected. Do you know the answers to these questions?
How secure is my network?
Is my data really being backed up?
What would it take to get my business functioning again after a disaster?
Are my desktops, laptops and servers being maintained properly?
Is my system compliant with industry requirements, such as HIPAA/PCS/SOX?
Are my computers vulnerable to viruses and malware?
Is my system still accessible by ex-employees and IT people?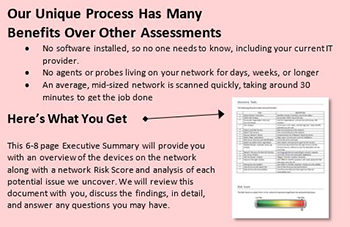 NDYNAMICS would like to meet with your team and provide a no-obligation health assessment of your computer network and business technology.
Network Assessments of this type are valued at nearly $1000. However, for a short period of time, we are offering up free Network Assessments to a limited number of companies. There's no cost to you, the Client Risk Report is yours to keep, and there is absolutely no obligation to retain our services.
Fill out this form today to receive your FREE no-obligation Network Assessment!
*Offer is available only to Silicon Valley Businesses that have between 5 and 100 employees.